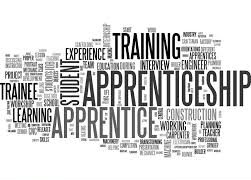 Apprenticeship is a work force training concept designed to prepare an individual for occupations in the skilled trades and crafts. Apprenticeship programs have withstood the test of time as a way to effectively train workers in a skilled trade or craft. These programs are similar to college and can take from one to as many as seven years to complete depending on which trade or craft is chosen.
An Apprentice is an individual who develops marketable job skills in a structured training program who possess the aptitude, physical condition and desire to succeed in a specific trade or craft. Apprentices work with experienced journeypersons on the job and receive an hourly wage and other benefits while learning their chosen trade or craft. On the job training is supplemented by classroom instruction.
Apprenticeship programs are operated under the authority of Joint Apprenticeship Committees (JAC) or Joint Apprenticeship and Training Committees (JATC) composed of an equal number of employer and union representatives. Authority is established in an Apprenticeship Labor Standards Agreement adopted by the JAC or JATC. These standards contain rules and regulations for conducting an apprenticeship program and detail the duties and responsibilities of the local JAC or JATC.
There are approximately 650 individuals enrolled as Automotive Apprentices across Northern California working full-time and attending automotive-related classes at a community college. Automotive Apprentices can work in the field of Auto & Truck Mechanics, Auto Body, Auto Paint, Truck and Trailer Repair, Service Advisor, Heavy Equipment Mechanic and Part Counter Person.
Automotive Trades Apprenticeship Program
8130 Baldwin Street
Oakland, California 94621-1905
Apprenticeship Applications will be accepted Monday through Thursday (except holidays) from 8 a.m. to 11 a.m.
Phone:  Oakland – (510) 569-8450
Fax:Oakland – (510) 569-8452
Phone:San Jose – (408) 291-2540
Or look them up on the Web:
www.autoapprenticeship.com
Congrats to pre-apprentices for completing the first step to a new career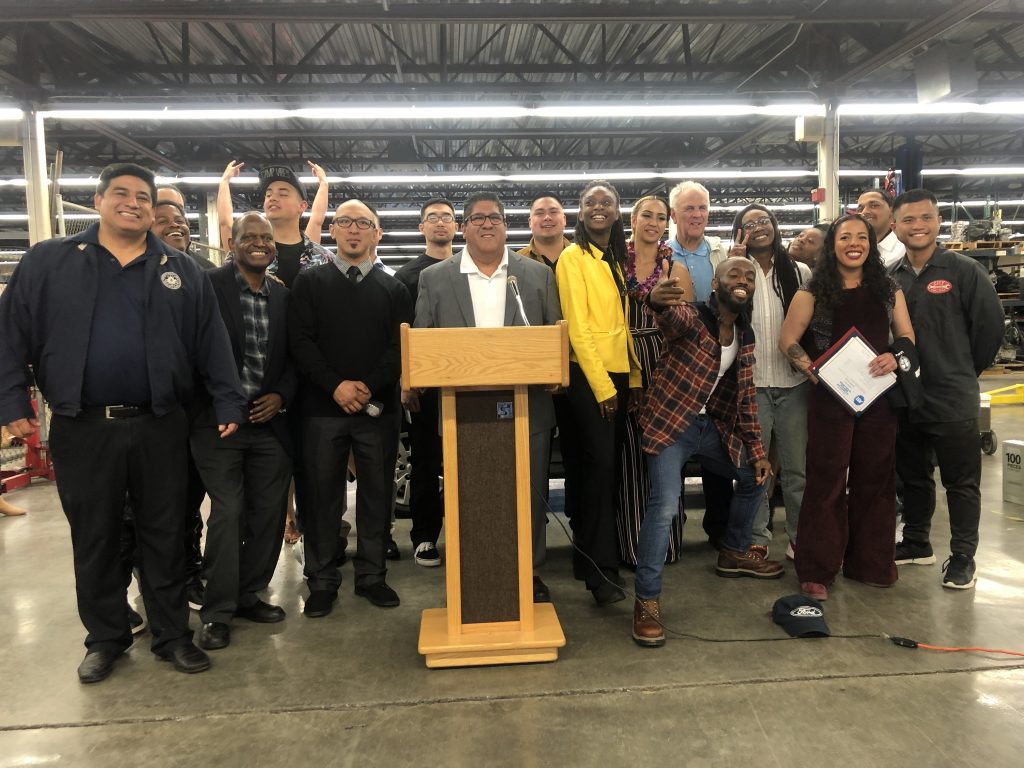 On Friday, June 7, the first group of 19 pre-apprentices celebrated the completion of their 18-week training program. After nine weeks at the City College of San Francisco, they rotated work shifts between the Golden Gate Bridge Highway and Transportation Division, Automotive Division and Ferry Division, as well as at the City and County of San Francisco and the MTA.
"Our goal is to train automotive mechanics, automotive machinists, maintenance machinists, auto body fender workers and auto painters. Importantly, we were charged with placing heavy emphasis on recruiting women to become mechanics," says Area Director Pedro Mendez. "Local 1414 members oversaw the students' work in the field and gave each of the grads a set of tools."
Mendez thanked former Business Rep Art Gonzalez who originally shepherded this program through. He also thanked Jewish Vocational Services and Tradeswomen, Inc. for their work to recruit and support the participants, particularly the women. On the city level, he particularly thanked Margaret Reed, Project Manager of Apprenticeship San Francsico, and each of the agencies for making it happen. "Several agencies have already developed apprenticeship programs so these grads will have an opportunity to get to work soon," Mendez added.