Steps to save the AI Pension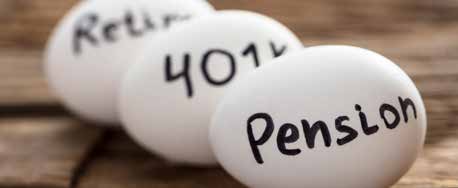 When the American Rescue Plan Act of 2021 (ARPA) was signed into law in March, in addition to helping bail out individuals and companies impacted by the pandemic closures, it had the unique feature of funding the pension financing plan supported by union pension plans.
The "Special Financial Assistance Program for Financially Troubled Multiemployer Plans" is a key provision of ARPA that will provide funding to troubled pension plans so they can pay their benefit obligations to their participants through the plan year ending in 2051.
The Trustees of the Automotive Industries Pension Plan intend to apply for assistance under ARPA for the benefit of the participants. Because there have been many questions from members about the special financial assistance application process, the goal of this article is to provide a basic background of ARPA and the steps the Automotive Industries Pension Plan will need to take in order to receive financial assistance.
New District 190 Officers
Directing Business Rep (DBR) Jim Beno and Secretary-Treasurer Glenn Gandolfo will be retiring after serving in those positions for 20 and 8 years, respectively.
At its November meeting, District 190 delegates elected new officers by acclamation. An election was held for the Trustee positions at the December meeting. All officers will assume their new positions at the January 25 District meeting.
Directing Business Rep:
Don Crosatto (Local 1546)
President:
Bruce Keller (Local 1414)
Vice President:
Tim Cooper (Local 1101)
Secretary-Treasurer:
Cindy Gagliardi (Local 1173)
Trustees:
To be determined

First woman shop steward elected in Local 1484
Lina Brown, a technician at Acura of Kearny Mesa San Diego was elected to serve as shop steward in November. She will be the first woman to serve as a shop steward for automotive technicians in Local 1484.
Lina has been an auto technician for eight years, and like many people who work in the automotive trade, she comes to it with family connections. "My father and two of my uncles were car salesmen, and one was also a tech," she recalls.
Lina majored in business in college, but couldn't quite see herself doing the work of business. "When I started to research what I really had a passion for, it became clear that I loved cars. I looked up colleges that had automotive programs and chose Miramar Community College because they have the Honda/Acura PACT program."
Her first job was at an independent shop inside Sears. After several years there, she moved to Kearny Mesa Acura to fully utilize her Honda/Acura certification. "I love the work," she says. "It's fast-paced and every day brings something new. We're not grease monkeys anymore," she adds. "It's no longer just mechanical; it's electrical, it's computerized."
Not long after she arrived at the Acura dealership, the 10 techs started pulling together to organize into the IAM. She says the union campaign, which took place in 2019, was nerve-wracking in the beginning. "But, as we went through the process, we knew what we wanted to fight for—fairness and communications. We got stronger as the campaign went along." She says that after the election victory, it took about six months to negotiate their first contract.
Labor & Workforce Development Agency Resources
In the face of the COVID-19 pandemic, the Labor & Workforce Development Agency (LWDA) wants to keep workers, employers, co-workers, and families safe.
What employees are entitled to may be confusing.
The LWDA has centralized all the information regarding Unemployment, Disability, Paid Sick Leave, FMLA and much, much more.
Guide Dogs of America still needs your support
Due to COVID pandemic, before heading to any event give the Local a call to see if it's been cancelled.
As winter kicks in, it's a great time to grab a favorite blanket, a hot drink or a comforting bowl of soup to embrace the season. These warmers aremade by ethical companies that treat their workers fairly and give them a voice on the job. Stay toasty and let's all help build a stronger America. Coats & Outerwear Brooks Brothers/Garland Manufacturing (Workers...
Wage inequality continues to increase
"Over the 1979–2020 period:
Wages for the top 1.0% and top 0.1% skyrocketed by 179.3% and 389.1%, respectively. Wages for the bottom 90% grew just 28.2%.
Economic Policy Institute
IAM Videos
Links to videos