Vaccine mandates and the future of COVID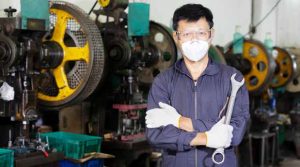 The COVID-19 pandemic has proven to be a test, not only of employers and unions and how well each are able to protect the workers they employ or represent, but also of the general public and the front-line workers themselves. While more than 700,000 Americans have fallen to the virus since March 2020, and the economy has likely forever been changed, IAM members have proven to be resilient.
It is surely everyone's goal to truly have the pandemic behind us. With over 77% of Americans over 12 years old at least partially vaccinated, the majority clearly agree that vaccinations are our best hope to beating back the virus.
Upcoming District & Local Lodge Elections
A message from the Trustees to the participants of the California Machinists 401k Plan
This notice is to inform you of an upcoming change in our Plan website that is scheduled to occur the week of November 8. The Administrative Office (formerly Kaufmann and Goble/KandG) was acquired by NWPS (Northwest Plan Services) and as part of their rebranding will be transitioning the Plan to a new system and new website. Please note, there will be no change to the Service Team that handles our Plan.
There will also be a new Mobile App associated with the Plan, information on that will be mailed with your December quarterly statement. For those of you that prefer to use the automated phone system, this will change to a live Representative line effective the week of November 8 as well. Please review the information below and reach out to NWPS if you have any questions regarding this transition. As indicated below, you will need to re-register through the new website to access your account on-line.
Online Account Access 24/7
You can access and make changes to your account on-line at the following website: www.caliam401k.com The first time you visit the site, you will be prompted to register your on line account using your Social Security Number, date of birth, and zip code.
You will be prompted to create a Username and Password and set up security questions.
For your own protection, keep your Password confidential. Do not disclose it to anyone.
When you access your account on line, you have the following options:
View your account balance and returns
View your transaction history
Access your quarterly statements, or generate OnDemand statements
Opt-in or opt-out of receiving electronic statements
View investment fund information, including prices and performance
View or change the investment allocation of your existing savings
Elect to have your investment allocation automatically rebalanced
View or change your beneficiary elections
View plan information and download plan forms
Questions? Call or email
For questions about your account or the California Machinists 401(k)Plan, contact the NWPS Resource Center at 800-767-1170 or by email:
Labor & Workforce Development Agency Resources
In the face of the COVID-19 pandemic, the Labor & Workforce Development Agency (LWDA) wants to keep workers, employers, co-workers, and families safe.
What employees are entitled to may be confusing.
The LWDA has centralized all the information regarding Unemployment, Disability, Paid Sick Leave, FMLA and much, much more.
Guide Dogs of America still needs your support
Due to COVID pandemic, before heading to any event give the Local a call to see if it's been cancelled.
Kick off the football and Union-Made Brews basketball seasons with union-made, American-made beers. Anchor Brewing Company (ILWU) Bass (IAM) Beck's (IAM) Blue Moon (IUOE, IBT) Budweiser (IAM, IUOE, IBT) Coors (IBT) Dundee (IBT) Goose Island (IBT) Hamm's (UAW) Henry Weinhard's (IUOE, IBT) Keystone (IAM, IUOE) Kirin (IAM) Land Shark Lager (IAM, IUOE, IBT) Leinenkugel (UAW,...
Strike-tober
"A record 4.3 million Americans quit their jobs in August alone while hundreds of
thousands of workers with similar grievances about wages, benefits and quality of
life are choosing to fight. In October, 10,000 John Deere workers went on strike,
while unions representing 31,000 Kaiser employees authorized walkouts. Some
60,000 Hollywood production workers reached a deal with producers, averting a
strike hours before a negotiation deadline. All told, in 2021, there have been strikes
against 178 employers, 12 of which involved 1,000 or more workers."
— Jacob Bobage, Washington Post
IAM Videos
Links to videos