Labor on the upswing!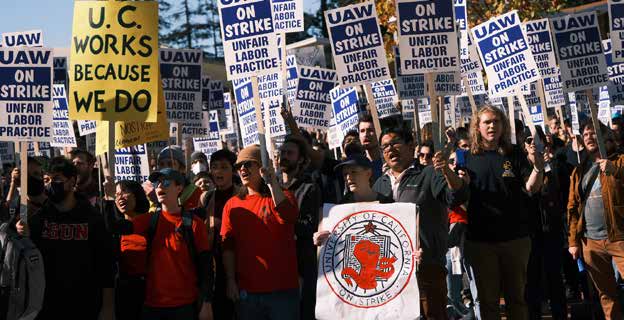 The surprise, at least to some who have long predicted the demise of labor, is that 2022 was a year of enormous upsurge in union activity. This was marked by unparalleled organizing, significant strikes, and record contracts. Support for unions is now at 71%, its highest in more than 60 years and the Machinists Union has been at the forefront of this historic trend.
Organizing and strike resurgence
Workers are organizing at Amazon warehouses, Starbucks coffee shops, and Apple stores. There have been winning drives at Trader Joe's, REI, and videogame company Activision Blizzard. District 190 has won its share of organizing drives as well, although getting to a first contract has been daunting if not impossible. Some of the winning organizing campaigns over the last few years include Lexus of San Diego, Acura of Escondido, Tracy Toyota, and Audi Concord.
Along with the increase in organizing, workers have been more willing than ever to take their fights to the streets. According to Cornell University's School of Industrial and Labor Relations, as of December 1, there have been 374 strikes in 2022—a 39 percent increase over 2021—from the bakers at Kelloggs and Nabisco to teachers, nurses, mental health workers, fast food workers, and the workers at the New York Times. Cornell counts 78,000 workers who walked off the job in the first half of this year—nearly three times the 26,500 who struck in the first six months of 2021.
On November 14, when 48,000 University of California researchers and teaching assistants, represented by the United Auto Workers, walked off their jobs statewide to demand a living wage, labor was with them in solidarity.
The good news that resulted from the largest academic strike in history is that after years of working for poverty wages, workers won a contract with raises of up to 66% over three years. The better news is that this strike is an inspiration to the academic workers at hundreds of public and private universities who have been struggling for years.
Welcome Donte Vickers – New business rep for San Francisco
(public sector) members
Long-time car enthusiast Donte Vickers is now taking his skills to represent IAM public sector workers in San Francisco.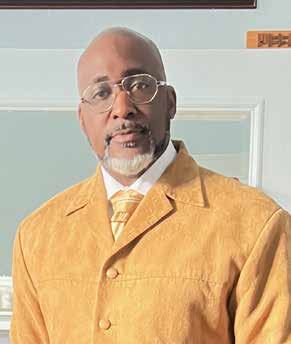 "I've been working on vehicles, cars, and trucks since I was 9 years old," he says. His work experience includes owning his own business as a mobile mechanic; maintaining the equipment and vehicles for a general contractor; and working at U-Haul for about 15 years. His first union experience was being an ironworker for three years.
In 2014, Donte started working at MUNI in San Francisco, at first as an operator. The next year, he became a mechanic at Central Shops and worked there through 2021. This is when he first joined the IAM. In April 2022, he became an automotive machinist and did that work through the end of that year. "And now, I am a business rep for District 190.
Meet District 190's Secretary-Treasurer Cindy Gagliardi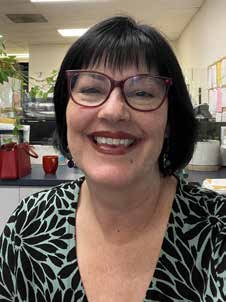 Growing up in a union family, Cindy Gagliardi always kept an eye out for a union position. "My father and brother were in the IBEW [electrical workers union]. My other brother was an Antioch Police Officer. And my grandmother was a public school teacher," she recalls.
It took a while, however, for her to get into a union position. The first 16 years of her career were as a project coordinator and executive assistant at a boutique graphic design company in Walnut Creek. When she heard about an opening at Local 1173 in 2006, she jumped at it.
Initially, Cindy's work at the Local focused on dues and member support. In 2015, when longtime office manager Rhonda Gonsalves retired, she took over.
Machinists Grand Lodge Convention highlights the union's successes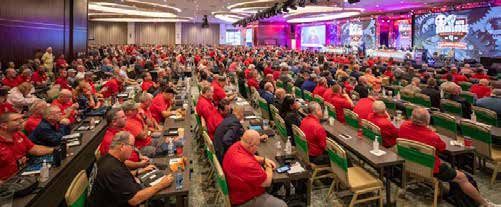 The Las Vegas Hilton was the site for the International Association of Machinists' 40th convention, held on October 2-7, 2022.
President Robert Martinez, Jr., opened the convention by calling attention to the many organizing wins the Machinists Union has achieved. Martinez highlighted historic campaigns that brought into the union 450 Baltimore County Public Library workers, 75 Milwaukee Art Museum workers, 400 Lufthansa Technik workers, 130 veterinary specialists, 2,400 Canadian and 100 New Mexico health care workers, the first Apple retail store workers, and New York architects.
Labor & Workforce Development Agency Resources
In the face of the COVID-19 pandemic, the Labor & Workforce Development Agency (LWDA) wants to keep workers, employers, co-workers, and families safe.
What employees are entitled to may be confusing.
The LWDA has centralized all the information regarding Unemployment, Disability, Paid Sick Leave, FMLA and much, much more.
Guide Dogs of America still needs your support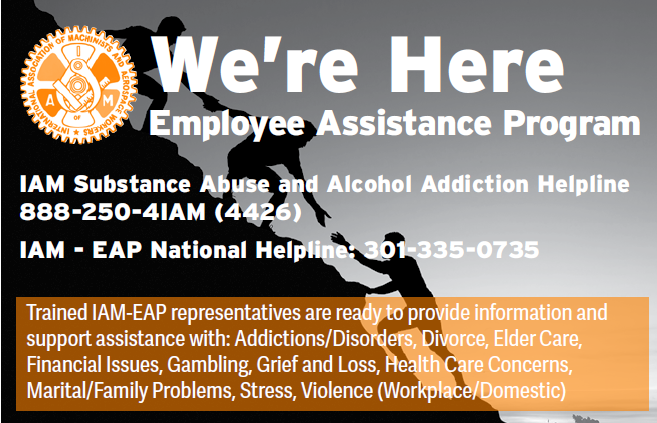 The U.S. National Labor Relations Board (NLRB) reported in December that union representation petitions increased by 53% in fiscal year 2022 when compared with 2021 and were at the highest since 2016. "Given the spike in case intake we are seeing in the field, we can...
Workers across the country are joining picket lines to secure higher wages, affordable healthcare, and better working conditions at a rate that might outpace last year's explosion of strike activity. In 2021, the wave of workers who walked off the job in October...
Due to COVID pandemic, before heading to any event give the Local a call to see if it's been cancelled.
"The best investment is in the tools of one's own trade." Benjamin Franklin said that 250 years ago, and thousands of IAM members who regularly rely on toolboxes worth of tools will likely agree. When judging the quality of tools, it's got to add points to know that the tools themselves were produced by union workers. Here are some popular tool brands and the unions that...
1,460%
The amount CEO pay (including stock awards and options), is up since 1978. (The increase since 2020 is 11.1%.)
Not surprisingly, this increase was not matched by increased pay for typical workers: The ratio of CEO-to-typical-worker pay soared to 399-to-1 under EPI's realized measure of CEO pay, the highest ratio on record, up from 366-to-1 in 2020 and a massive increase from 59-to-1 in 1989.
Economic Policy Institute
IAM Videos
Links to videos