Attention Members, Stewards, and Activists
Make Your Voice Heard by Registering for IAM's 2020 Presidential Endorsement Election
Don't miss this opportunity.  Register today and be part of this important decision.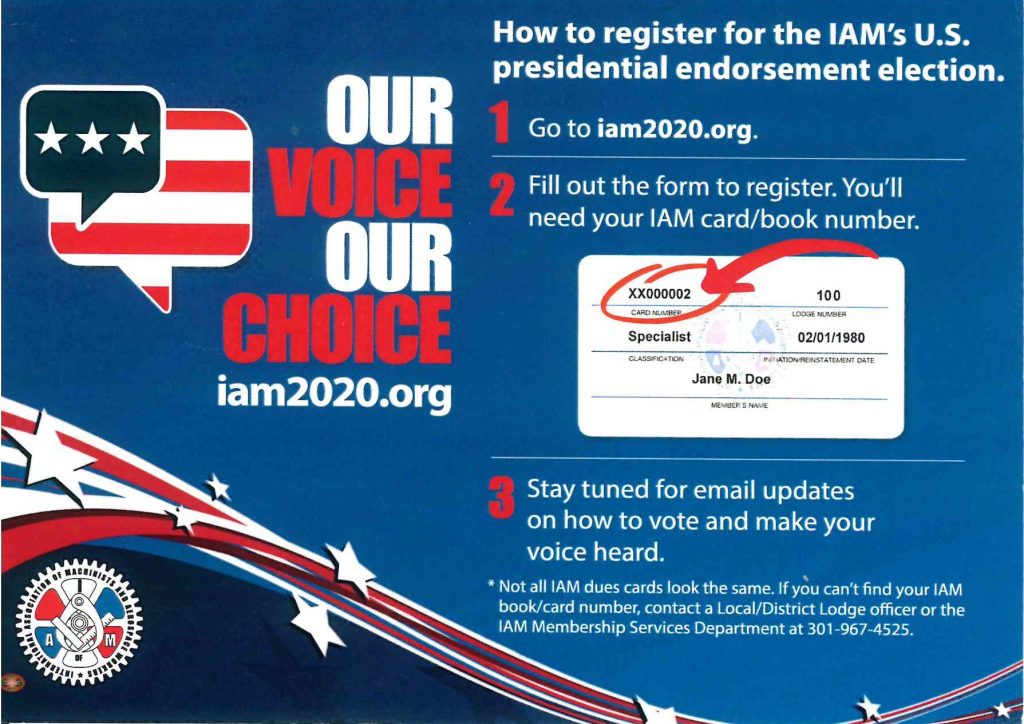 Three-month Vallejo Toyota strike heads into
holidays
On September 20, the 23 techs at Vallejo Toyota stepped outside the shop and, as this paper goes to press, they haven't been back. These proud members of Local 1173 are fighting not for wages and benefits, but for union security.
"We didn't have an option," says Shop Steward and member of the negotiating team Miguel Barrera, who's been in the union for about 30 years. "The dealer negotiated with the intent of getting rid of the union. They didn't want to compromise at all. We're fighting for our union life."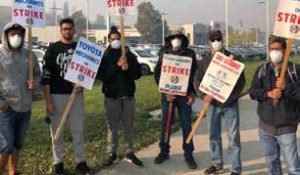 According to Area Director Steve Older, the union and management came to agreement on the economics. The only issue left outstanding was union security. "They have to agree to our return to work document and put union security back into the contract, or we won't accept a contract."
The word on the street is that this dealership doesn't want to be the last union shop in Solano County. But members and staff agree, the economics of this strike don't
make any sense for the dealership. "They've lost probably 10 years of the contract improvements we were demanding with us not working," said 18-year member Chris Heckenbach. "If they do dump the union, they'll need to come up with $1-2 million to cover the pension liability. It's just economically dumb."
Heckenbach adds that the shop couldn't get qualified techs to replace the union members who are on the picket line. "We know the guys replacing us are making mistakes. We've seen a lot of come-backs and a lot of vehicles being towed out," he says. Some of the techs reported that customers on social media say they won't come back until experienced techs are back.
"This place has been union for at least 60 years," said Jim Thompson, who joined the dealership as a tech back in the 1970s. "It's grown and thrived over the years with the union here. They can say they want to get rid of the "union" but we are the union, so why do they want to get rid of us?"
Thompson adds that it's been a pleasure seeing how newly hired techs come to embrace the dealership. "We pretty much run the shop. Most of us are Master Techs and have our ASEs and we're motivated to upgrade our skills. We pass this down to the new hires. Our goal has been to work in the best interest of the dealership and the customers." Thompson has been part of the negotiating team with Barrera. "This company will get what they deserve if this doesn't work out. They don't take loyalty into account."
Solidarity matters
"It's amazing the support you get from people you don't know, but who support the rights of workers," said Barrera. In addition to the IAM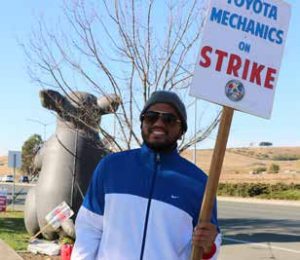 strike benefit and the union paying critical bills, there's been tremendous support from other IAM Locals, other unions, and the community.
Just a few that have pitched in, with money, time on the picket line, gift cards, and other goodies are: United Food and Commercial Workers, Kaiser Health Care workers, Operating Engineers, Iron Workers, Teachers, and Insulators and Hakeem Brown from the Vallejo City Council delivered turkeys before Thanksgiving.
"We've had support from the Napa-Solano Labor Council and its affiliates every weekend," says Older. "And, as of mid-November donations were $18,000 from other unions and $7,000 from Go-Fund-Me."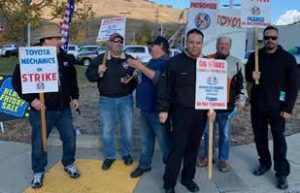 "It is stressful," says Barrera. "There's uncertainty about your future. For the first time in many years, I don't have a steady income. How will I pay for my son's tuition at school? But," he adds, "we know we're doing the right thing. We're protecting
our rights and those of future union members."
Four-year member Abner Alberto says he's experienced job loss before, so he had a rainy day account. "I tried to be psychologically and financially prepared for this, but I've had better days. Mostly, I believe in what we're fighting for and why we have to be out here."
Across the board, everyone agrees with Older who said "We just hope it will end soon."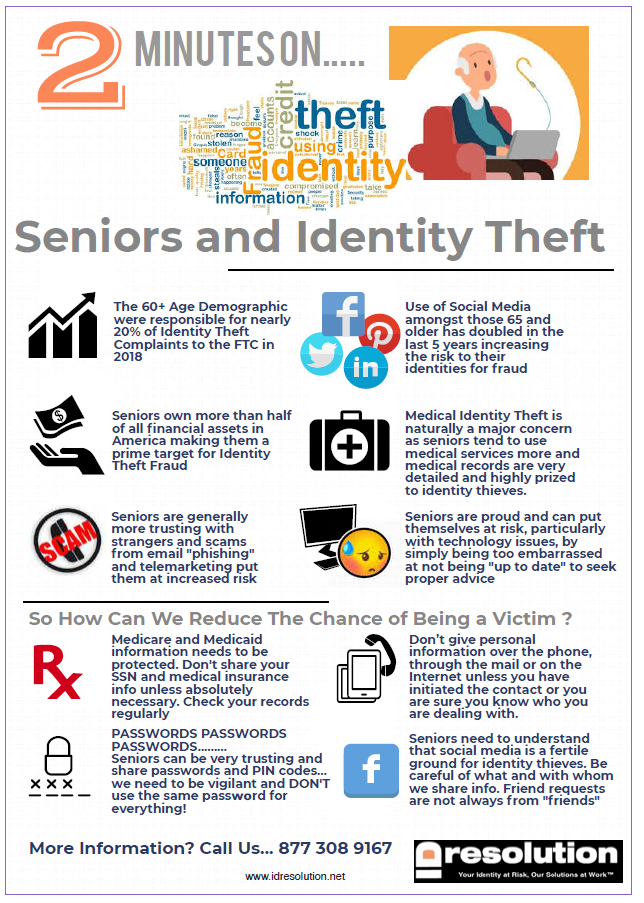 Labor 411 is about supporting good jobs through consumer activism. We believe that when we spend our hard-earned money on products made by businesses that treat their employees fairly with good pay and benefits, we are making a difference.
Fast Facts
64% of people polled by Gallup in August, 2019, approve of labor unions—one of the highest rates in half a century. Americans have not viewed unions in such a positive light since 2003, when the rate hit 65%.
IAM Videos
Links to videos