Pension relief for Auto Industries plan, finally!
By JIM BENO
Directing Business Rep,
District Lodge 190
Chair, AI Pension Fund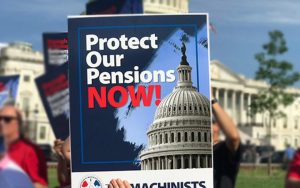 After several years on the brink, the Automotive Industries (AI) Pension Plan has finally been given a reprieve and should be safe at least through 2051.
Congress has debated funding relief for multi-employer pension plans like ours for many years and finally took action with the passage of the American Rescue Plan Act of 2021. President Biden signed the bill into law as soon as it reached his desk in March.
The pension provisions of the law were based on the Butch Lewis Emergency Pension Plan Relief Act of 2021, which was backed by your Machinists Union and which had been reintroduced in different versions in Congress since 2014 but had never gained traction until now with the new administration. We thank every member of Congress who supported us on this legislation and especially President Biden, who signed it in his first hundred days in office.
We are now waiting for the government to release the rules and regulations that will govern how the Act is administered; these are due no later than July 9, 2021.
The Rescue Plan will create a new program for pension funds that are in "critical and declining" status, such as our AI plan. The program will be administered by the Pension Benefit Guarantee Corporation (PBGC). Upon approval of a fund's application, the PBGC will then provide a single lump-sum payment to the pension plan in an amount equal to all accrued benefits, without reduction, through the last day of the plan year ending in 2051. Plan participants and retirees will receive 100% of their earned pension benefits. There is no obligation on the pension plan to repay the amount and there is no cap on the amount transferred. It is structured more as a grant and not a loan as had been proposed in earlier legislation.
While we have to wait for all of the specific rules and regulations to be released by the PBGC, the Automotive Industries Pension Plan meets the eligibility requirements to participate. Applications must be submitted no later than December 31, 2025, however, the Automotive Pension Plan will be prepared to submit its application as soon as the rules are released and can be accepted by the PBGC. The government may limit which plans can submit applications during the first two years to prioritize the most financially troubled plans. They may prioritize plans that are already insolvent or likely to be insolvent within the next five years. Our AI Plan is not currently projected to become insolvent before 2030 or 2031, almost 10 years from now. We do not at this point know when we could expect receipt of funding.
The PBGC may also create rules and conditions on pension plans relating to increases to future accrual rates, retroactive benefit improvements, allocation of plan assets, reductions in employer contribution rates, and withdrawal liability provisions.
This has been a long hard-fought battle and we now have light at the end of the tunnel. Stay tuned for future news, especially after the July 9 release date of the regulations on applying for the relief funds.
The IAM's 16-year legal battle with the Longshore Workers union at PCMC is finally over  
It all began in 2005 when the International Longshore and Warehouse Union (ILWU) decided to collude with one port employer in Oakland and Tacoma to force IAM members out of their own union and into the ILWU. There was the years-long battle to determine if PCMC and PMMC were the same entity trying to pull a fast one, as the IAM contended, or were truly different entities.   
As Area Director Don Crosatto explains it, "we lost the case after a 40-day trial. Then we won it on appeal. Then the case got thrown out on a technicality and we won it again on the second appeal. In 2016, the employer agreed to a $10.5 million settlement, distributed to employees and the benefit fund. However, the ILWU was still on the hook for the union dues that they had illegally collected, because these employees weren't properly members of that union."   
"The ILWU continued to fight the battle until they lost in federal court in 2018. In 2020, there was a hearing to decide how much they owed; the ILWU appealed that, and lost. Then, in May, while in the process of appealing that portion of the circuit court decision, they decided to settle the dues case for the $2.5 million." This latest settlement applies to about 45 members in Oakland and 75 in Tacoma.
"In early April, we got a call from ILWU's attorneys," explains Crosatto. "They wanted to discuss a settlement to the Outer Harbor case, which is the most recent one. They offered us 90¢ on the dollar to settle it, which comes to about $200K. Then we heard from members who worked at the terminal for PCMC but not for Outer Harbor. It turns out that the ILWU didn't contact the IAM but just paid a lump sum of $2.5 million in full to the Labor Board, who will distribute it to the members. "This is a great conclusion to a long saga. Some individuals will get close to $30,000," Crosatto adds.
Labor & Workforce Development Agency Resources
In the face of the COVID-19 pandemic, the Labor & Workforce Development Agency (LWDA) wants to keep workers, employers, co-workers, and families safe.
What employees are entitled to may be confusing.
The LWDA has centralized all the information regarding Unemployment, Disability, Paid Sick Leave, FMLA and much, much more.
Guide Dogs of America still needs your support
While some employers may be struggling to hire for one reason or another, economists say generous unemployment benefits are not the cause. As the U.S. economy bounces back from the COVID-induced downturn, some employers say they're having a hard time finding workers....
Some California employers when rehiring will have to offer jobs first to the former workers they laid off during the coronavirus pandemic under a law signed by Gov. Gavin Newsom. Those employers include hotels, large event centers, and airports, as well as janitorial,...
Due to COVID pandemic, before heading to any event give the Local a call to see if it's been cancelled.
Summer is approaching and even though the pandemic is waning (we hope), it's still best to gather with friends and family outdoors. If you're vaccinated, feel free to shed your mask and make the most of your grill.
Here are some union- made products to make it all even more enjoyable.
Words of Wisdom
"Roughly 650 billionaires in America increased their wealth by more than $1 trillion during this pandemic… My fellow Americans, trickle down economics has never worked, and it's time to grow the economy from the bottom and the middle out."
President Joe Biden
Address to Congress, April 28, 2021
IAM Videos
Links to videos