VOTE "NO" ON THE RECALL
By JIM BENO
Directing Business Rep,
District Lodge 190
Chair, AI Pension Fund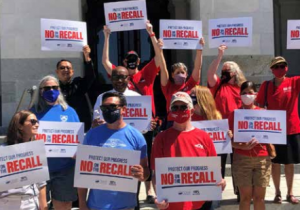 Governor Newsom worked with unions to build the country's strongest COVID-19 protections for essential workers. He stood with us — now it's time for us to stand with him!
How Governor Newsom stands with workers:
Strict enforcement of labor laws to protect workers;
Expanded COVID-related paid sick leave;
Signed legislation to keep workers safe and shut down unsafe workplaces;
Supported unions and local groups to get vaccines to essential workers;
California's COVID rate is now the lowest in the nation.
From the picket lines to the Capitol, here's how Governor Newsom takes action on the toughest issues facing working people:
Signed a bill to crack down on worker misclassification and restore basic rights to millions of workers
Championed the California Racial Justice Act to reform the criminal justice system, signing it into law
Helped to protect working people from corporate greed, increased funding to schools, expanded health care, promoted affordable housing and more
Who's behind the recall:
Recall donors are a who's who of anti-union special interests. The wealthy corporate backers of the recall have been working for decades to undermine California's strong worker protection laws. The anti-union recall backers want to lower wages, eliminate health and safety laws and kill union jobs.
How the Recall will work…  
Ballots will be mailed on August 16 to every Californian. You may vote by mail (postage is paid), or you may wait until September 11-14 to vote in person or to drop off your ballot in person.
Your ballot will have two questions:
1) Do you support the Recall? If you vote NO, then you are supporting Governor Gavin Newsom and your ballot is complete.
2) If you vote YES, then you will vote for one of the 46 candidates running to replace him. All of those candidates are anti-union.
If Newsom does NOT garner a 50%-plus one vote majority, then whoever has the most votes of the 46 will become the governor….they could have 5%, 10%, or 20% of the total votes cast.
We urge you to vote NO as soon as you get your ballot and return it by mail.
Don't just think about it — DO IT!
Labor & Workforce Development Agency Resources
In the face of the COVID-19 pandemic, the Labor & Workforce Development Agency (LWDA) wants to keep workers, employers, co-workers, and families safe.
What employees are entitled to may be confusing.
The LWDA has centralized all the information regarding Unemployment, Disability, Paid Sick Leave, FMLA and much, much more.
Guide Dogs of America still needs your support
Due to COVID pandemic, before heading to any event give the Local a call to see if it's been cancelled.
Summer is approaching and even though the pandemic is waning (we hope), it's still best to gather with friends and family outdoors. If you're vaccinated, feel free to shed your mask and make the most of your grill.
Here are some union- made products to make it all even more enjoyable.
It's a hard life for billionaires
During the pandemic, the total wealth of U.S. billionaires soared by $1.8 trillion—an increase of over 60 percent. Those gains alone could almost entirely pay for President Biden's American Families Plan, a gameplan for providing vital investments in education, health care, and much much more for tens of millions of Americans.
www.inequality.org
IAM Videos
Links to videos