First contract at WestCAT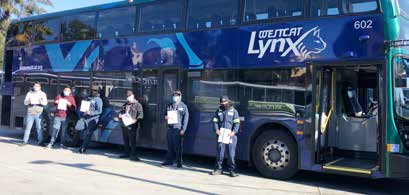 After a six-week organizing drive, the techs at WestCAT, which runs the buses in the Pinole area, unanimously voted in February to join the union.
Then the pandemic hit. First, there was the lockdown, and then the negotiator for the employer was on no-fly orders. "Negotiations for a first contract were ultimately held over Zoom, and that seemed to do the job," says Business Rep Robbie Pintos.
"We had an established relationship with MV Transportation, so getting the general contract language was a fairly seamless process," says Pintos. Agreeing to the wages, however, was much tougher, especially due to the impact of the pandemic on ridership. "We finally got a deal that we felt was fair. The members voted unanimously to accept it — socially distanced out in the parking lot." Local 1546 welcomes the techs at WestCAT.