IN MEMORIAM
District Lodge 190 extends its condolences to the families of the following former
IAM staff:
Bud Willis, Retired Business Representative for Locals 1492 and 1173
Julie Quayle, Retired Secretary of the District 190 Apprenticeship office
Jose Rodriguez, Retired Grand Lodge Rep and Local 1546 member
We also recognize the District's first COVID fatality:
Jimmy Soto, a mechanic at Honda of Oakland, 56 years old and a 21-year member of Local 1546.
Celebrating Labor Day By Helping the Community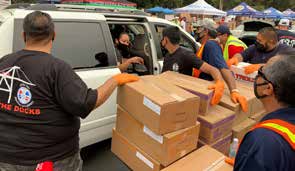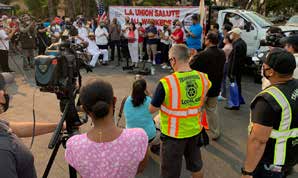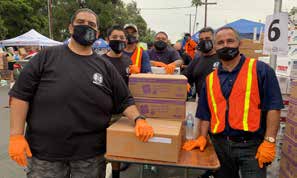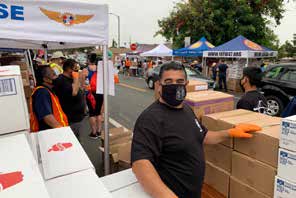 Although the traditional Labor Day Parade was cancelled, unions still came out in force that day in Wilmington near the Port of LA. Local 1484 members joined their sisters and brothers in labor to distribute food boxes to 4,000 families who have been impacted by COVID-19. The event was sponsored by the Los Angeles Labor Council.
"Today, we honor the contributions of American workers, especially those who have fought tirelessly on the frontlines of COVID," said Local 1484 President Rudolph Morales. "Let's show our gratitude by exercising our right to vote, and elect champions that will rebuild an economy that works for EVERYONE this November."
"Special thanks to President Rudy Morales, Recording Secretary Javier Contreras and his son Richard, Adrian Reyes from CGI and the leadership and members of District Lodge 725 for representing the Machinists at this special day," added Area Director Kevin Kucera.